For year's doctors have recommended swimming as one of the best forms of exercise for asthmatics, indeed some of our great Olympic champions have been asthma sufferers including Kaylee Mckeown, Jess Schipper, Samantha Riley and Dawn Fraser.
However, not all pools are created equal. Pools where the chlorine balance is poor can irritate the airways, the same can be said for poor air handling.
The sniff test. While its hardly scientific if you enter a pool and feel overwhelmed by the smell of chlorine chances are something is amiss with either the water treatment, the air handing or both.
Carlile Swimming has invested millions of dollars in world class treatment for both the air and water in its facilities. This, along with warm water and air temperatures plus a professional approach to maintenance ensures the ideal environment to learn to swim for everyone. Including asthmatics.
Swimming improves lung capacity, posture, physique, muscle tone and general fitness. In the right environment, it's also much less likely to induce asthma symptoms than many other types of similar activities. Particularly those in dry, cold air.
'It's a good idea to keep your child's "puffer" handy and you may even consider using it ten minutes before the class. However, as always consult your doctor.
"It was a doctor who suggested to my parents that I get involved in swimming to help improve my lung capacity and fitness. It was the best advice I was ever given," said World Champion Samantha Riley when appointed an ambassador for the Asthma Foundation.
More recently the McKeown sisters Kaylee and Taylor have been encouraging others to manage their asthma and get involved in sport "We are really keen to show that asthma does not have to limit your potential," Taylor said.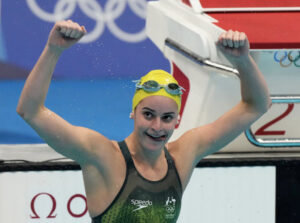 Kaylee wins Gold in Tokyo
While not all exercise is ideal for asthmatics, swimming in a pool with high quality water treatment and air handling will make a difference. Studies have shown swimming can reduce:
asthma symptoms
the amount of asthma medication needed
trips to the doctor
sick days away from school or work.