It was back to the future today for the Carlile Swimming junior squad members in their Winter Camp. The swimmers headed back to where it all began, the Palm Beach Rock Pool. It was there in 1946, that Forbes Carlile started his coaching career.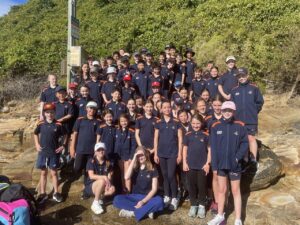 The young athletes pictured at the same spot where Forbes had taken the picture of his team, standing alongside the World's first pace clock – which he invented. At the bottom right of that shot is John Davies, who Forbes coached to a gold medal at the 1952 Olympics. Davies was also the first of his 8 world record holders and the first of more than 50 Carlile produced swimmers to represent Australia.
From teaching babies to coaching Olympians the name Forbes Carlile is entwined with the history of Australian swimming, Forbes pioneered techniques that are now used around the world.
Forbes, who sadly passed in 2016, started his journey in 1946 at the idyllic Palm Beach rock pool. There he produced the first of his many world record holders, Olympic Gold medallists John Davies.
Forbes was a scientist working with the legendary professor Frank Cotton at Sydney University "He wanted to get into the practical side of sports, and I became his vice-president of swimming so to speak," Forbes joked years later.
He was standing on the edge of the Palm Beach pool, speaking to Ian Thorpe about one of the golden eras of Australian swimming.
"It all happened right here (Palm Beach), our scientific approach to swimming."
"Whereas Boy Charlton may have swum a mile a day, we were doing five miles."
By measuring the impact on the body, Forbes proved that humans could work much harder than previously believed and still recover to do it again.
"I think the swimmers also appreciated the fact that he himself had shown how hard you could push the body," coaching and life partner Ursula Carlile reflected.
Forbes has the unique distinction of being the only person to coach at an Olympics before competing. In 1948 he was the coach of Australia's swimming team, in 1952 he competed in the modern pentathlon.
He would go on to revolutionise swimming:
Inventing the pace clock – an iconic innovation now found on pool decks worldwide
Pioneering the use of circle swimming, interval training, lane ropes and goggles
Pioneering sports science, introducing blood tests, heart rate checks and log books
Pioneering the teaching of babies
Opening Australia's first commercial swim school at Sydney's Drummoyne pool in 1955
Opening Sydney's first indoor teaching facility at Cross street in Ryde in 1962