Carlile Swimming Caringbah to open, bringing its world-renowned learn to swim program to the Shire. The  state-of-the-art teaching pool will begin offering swimming lessons on August 21.
The new Caringbah pool draws on more than 75 years' experience in teaching. Featuring the world's leading filtration systems with warm air and water. There is an air-conditioned parents viewing room, baby change facilities and on-site parking. Making it simply ideal for swimming lessons.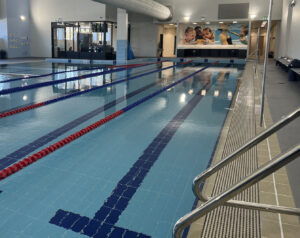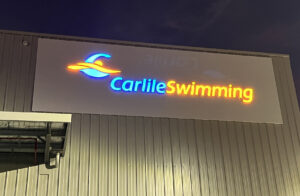 Catering for babies from three months through to squad swimmers the facility will be capable of providing as many as 3000 lessons a week. It will offer employment opportunities in the swimming industry to anyone in the Shire from 16-years through to retirees.
"It's a wonderful facility and we are thrilled to finally be operating in the Shire," said Carlile CEO Jon Harker.
The Carlile learn-to-swim pool is right next door to Woolworths in the new development at the corner of Gannons Road and Captain Cook drive. It is  just down the road from Shark Park.
Swimming Pioneers
Carlile Swimming pioneered baby swimming in Australia and is the oldest swim school in the country. It was founded by legendary Olympic coach Forbes Carlile and has taught more Australians to swim than anyone.
"Forbes started way back in 1946 at the Palm Beach rock pool, where he produced his first World Record holder and Olympic Gold medallist, John Davies," said Carlile Swimming CEO Jon Harker.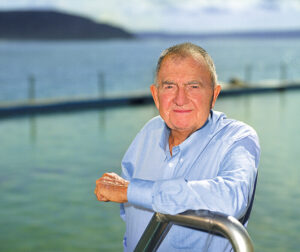 Legendary Swimming coach Forbes Carlile
"Forbes and wife Ursula built Sydney's first indoor teaching pool in their backyard at Ryde. Our pools have come a long way since then. Caringbah is purpose built to help children learn to swim well."
For young children starting out there are custom depths and ledges to ensure they can safely and confidently learn to swim. Because others need to perfect their technique, Carlile offers stroke correction followed by squads.
Safety first
"The first goal of learning to swim is to save lives. From there it opens a world of opportunity. It could be competitive swimming, surf lifesaving, playing water polo for the Sharks, surfing, swimming or sailing. Being in or on the water in the Shire is a way of life," Mr Harker said.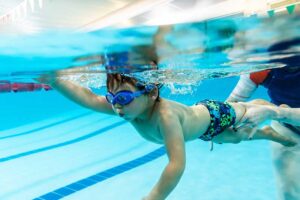 Carlile's award winning program is famous for producing swimmers with great technique, find our more here.
"We help children step by step with each level developing the skills to allow them to confidently move onto the next. Great technique is a lifesaver. It allows people to swim much longer without getting tired and stays with you for life," M Harker said.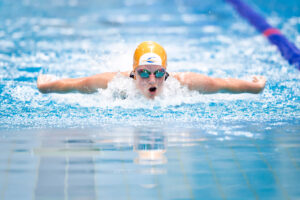 Pool leader
The pool will be managed by long-time local Melissa Plakidis, a desperate Sharks supporter who was most recently in charge of her own swim school – Little Sharks!
Melissa, born a water baby, has spent most of her life in swimming and the surf.  Indeed, her first foray into teaching was conducting Surf Awareness Clinics as a 15-year-old.
"Being part of the local community is the highlight, making connections with families that continue for years after the children's lessons," Melissa says.
"Seeing a child go from an unsure beginner to standing on the blocks at their first school carnival is irreplaceable."
This week Melissa was in the water with a few local children from her old Little Sharks school and the kids smiles gave the facility the ultimate thumbs up! You will be able to catch some of the team at the Cronulla fete this weekend.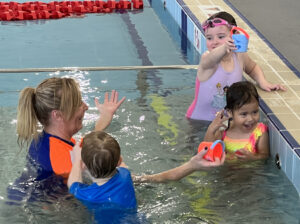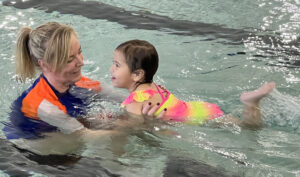 On Sunday October 13 Carlile Swimming Caringbah will hold an open day between 9am and midday.
Some Facts About Carlile
Carlile currently provides more than 26 thousand lessons a week in Sydney.
Forbes Carlile was Australia's first Olympic coach and holds the unique distinction of being the only person in the world to coach at the Olympics before competing.
Forbes Carlile invented the pace clock, and pioneered lane ropes, goggles, sports science, baby teaching and the practice of tapering before major events.
In 1972 Ursula Carlile became the first woman to coach the Australian Olympic swimming team. A team that included two Carlile Swimmers Shane Gould and Gail Neall.
Carlile Swimming has produced 8 world record holders, more than 50 Australian representatives and more than 250 Australian Open championship gold medals.
Forbes and Ursula Carlile are the only husband and wife coaching team in the International Swimming Hall of Fame, they are also in the Australian Swim Schools Hall of Fame and the International Swim School Hall of Fame. Find out more her