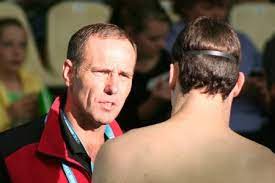 Hot on the heels of securing elite coach Chris Nesbit, Carlile Swimming has today announced the appointment of two new assistants to further enhance the club's coaching staff.
Nesbit, one of the world's leading coaches, will bring current TSS Aquatic assistants Daniel Marshall and Adam Mallett, to the Carlile Swimming Team headquarters at Ryde Aquatic.
The appointments are another positive step forward for Carlile, as it drives enhancements to its high performance program.
"Adam is an incredibly hard worker, as an athlete he did everything possible to get the best from himself and he has taken that work ethic into his coaching. Hard work is his trademark," Nesbit said.
Mallett, swam internationally under Nesbit after joining his Gold Coast based youth squad while still at school in 2007. He went on to gain a PHD in Physiology and returned to coach alongside Nesbit in 2016.
"His academic gifts are a winning point of difference, Adam loves swimming and is wonderfully creative with his coaching and thinking," coach Nesbit added.
Mallett, is currently guiding Open Water specialist Kai Edwards in his attempt to qualify for the Tokyo Olympics and will join Carlile in August.
Nesbit, who has placed 23 swimmers on Olympic teams, will join Carlile after the Tokyo Games and is delighted to also have Marshall on board.
"I knew within five minutes of meeting Danny that he is the type of coach I wanted to work with. He enjoys working with people, developing relationships and brings so much positive energy to his coaching," Nesbit said.
Marshall is the lead coach for the 13–17-year-old program on the Gold Coast, having joined Nesbit in 2018.
After previously coaching in England, Marshall's time in Queensland has enabled him to also work with six current Australian Dolphins, assisting in their preparation for major international meets.
"He has tremendous hunger for developing his coaching knowledge," Nesbit said.
Marshall will join Carlile Swimming in late June. With Gina Sacilotto taking maternity leave the void will be filled by a familiar face. Wally Eggleton, the former Open Water Australian Representative and current Bondi Rescue Star, will fill the APS role on an interim basis.