"No one cares about how much you know, until they know, how much you care," Carlile Swimming matriarch Ursula Carlile.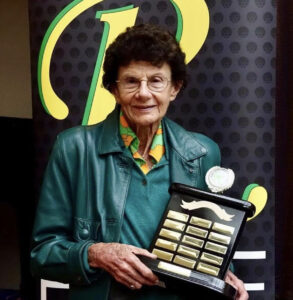 Today October 30, we celebrate the birthday of one of Australian sports pioneers, Ursula Carlile.
Ursula's timeless career broke down barriers for women across the globe. Australia's first female Olympic coach, and with Forbes the only husband and wife team to be inducted into the International Swimming Hall of Fame.
"Ursula is a remarkable woman, with Forbes she pioneered some of the most important innovations in world swimming," said Carlile director and former Australian champion Richard Cahalan.
"Things like the pace clock, circle swimming and heart rates, they were always looking for an edge."
Like her late husband, Ursula was a scientist. Their passion for swimming and scientific improvement even hijacked their wedding. A Saturday morning ceremony at the registry office in Sydney was followed by a quick cup of tea and then a dash to the airport.
"They headed to Townsville, good spot for a honeymoon. But they spent it at the Tobruk Pool preparing the 1958 Australian team for Cardiff," Mr Cahalan said.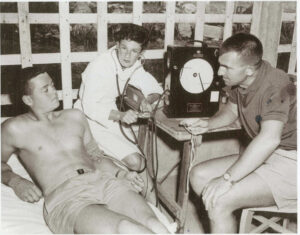 Forbes and Ursula on their "honeymoon" testing Breaststroker Terry Gathercole prior to the 1958 Empire Games. Gathercole would go on to be a world record holder, Olympic coach and president of Swimming Australia.
Ursula and Forbes would build the first indoor teaching pool in Sydney, knocking down the garage in the home they were renting at Cross street in Ryde.
"We were always going to buy the home anyway, so we went ahead and put the pool in," said Ursula.
Ursula still lives next door to the pool and is often found on pool deck watching the lessons. Thousands of children have learnt to swim under her expert eye. Does she remember them all?
"Well you remember the very good ones and the naughty ones," she said with a grin.
As for the very good ones, what an array of champions there has been.
In 1972 Ursula became Australia's first female Olympic coach.  At those Munich games Carlile swimmers Shane Gould and Gail Neall stood at the top of the Olympic podium, as did the late Bev Whitfield.
Recently, the always modest Ursula recalled Munich and Shane's amazing record of being the only swimmer to win five individual medals at the one Olympics. Not Thorpe, Spitz nor Mckeon can match that.
"That really was an incredible time, Shane was just so good, but I did feel Forbes deserved more of the credit," Ursula said.
"I was working with her but as much as anything I was giving her the programs that Forbes had developed, she worked hard, maybe not as hard as some others because she just had so much natural ability."
Amongst Shane's five medal haul in Munich were three golds, all in world record time.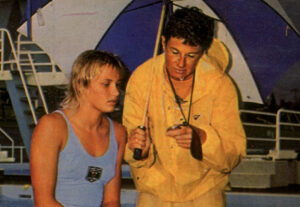 Ursula at the Ryde pool with Shane Gould.
Ursula's career also included stints with the Dutch Olympic team in 1964 and an honorary role as coach of China. A step that put her on a collision course with swimming's officials.
This was an era when most of the western world hadn't recognised the Chinese government.
"Ursula took the fall for that. She stood up to the officials against threats of being banned. One tough, principled lady,' Mr Cahalan said.
In what was a unique and remarkable coaching partnership it's fair to say Ursula had the business brains.
"It was really Ursula who understood how important learn to swim teaching could be in terms of a business. A business which would then support elite swimming," Mr Cahalan said.
Ursula adding "Forbes never really cared about money, we had an amazing life travelling the world coaching, he always felt that somehow the money would be there and inevitably it was."
Carlile Swimming now operates nine teaching pools across Sydney and is recognised as one of the world's Leading swim schools.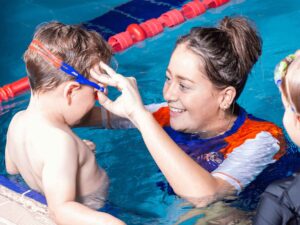 "Ursula has always lived by the motto that 'no one cares how much you know until they know how much you care' and that's at the heart of Carlile Swimming's success," Mr Cahalan said.
That success enabled Forbes and Ursula to create the Carlile Foundation which provides funds for their competitive program.
Happy Birthday Ursula, swimming in Australia and the world would not be the same without you.