Carlile Swimming doesn't believe in teaching children to swim using floatation aids other than active aids such as noodles and kick boards. Here are five reasons why.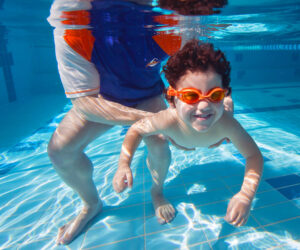 1 – Floatation aids give both parents and children a false sense of security. They can make you think your child is more capable than they are.
2 – They can delay the time it takes for Children to learn important skills such as turning over and back floating or paddling their way to the edge of the pool.
3 – They can hold children's faces out of the water, stopping them becoming comfortable with their head under exploring. If they fall you don't want your chikd to panic due to not being used to having their face submerged.
4 – Tragically in Australia 84% of drownings amongst children aged 0-4 are caused by falling into water. If your child falls into water, the chances are they will not be wearing a flotation aid.
5 – Many floatation aids hold a child's body in unnatural positions making it more difficult to build the skills they need to swim well.
"We only use active aids like kick boards," says Carlile Swimming Director and former Australian Champion Richard Cahalan.
"It is very easy to develop a false sense of security when using flotation aids, because it appears the child's skills are more advanced than they really are."
However, making children Safer is not the only reason why Carlile doesn't use floatation aids. Flotation aids can also hold a child's body in positions that compromise their ability to build the skills needed to swim well.
The Carlile approach has been constantly refined since they opened Sydney's first indoor teaching pool and pioneered teaching babies to swim.
Choosing where to take your child to swimming lessons is not just about finding the closest pool and a teacher.  You need an expert, with a nurturing approach that emphasises safety and develops great technique.
Carlile's approach to teaching children to swim has been refined over 75 years. Founders Forbes and Ursula Carlile opened the first indoor teaching pool in NSW, pioneering baby teaching.
The introduction of a structured scientific approach to teaching ensures the building blocks for each new skill are in place before children advance to the next level. Supervisors provide feedback and ensure lesson quality and consistency.
The Carlile approach is about developing confident, technically proficient swimmers who love the water.