Happy birthday to one of the greatest swimmers the world has ever seen, Shane Gould! Seen below capturing the 100 freestyle world record at just 15-years-of age. The swim made Shane the first and only person to hold every freestyle world record from 100m to 1500m.
Coached by Forbes and Ursula Carlile, Shane was born in 1956, the same year that Dawn Fraser won the first of her three successive 100m freestyle Olympic Gold Medals.
When Shane broke Dawn's 100m freestyle world record, Dawn had held it for longer than Shane had been alive. Along with every freestyle record Shane also held the  200IM world record.
Shane would go on to win three Gold Medals at the Munich Olympics all in world record time and was named Australian of the year. Her record of five individual gold medals at the one Olympics has never been matched, not even Ian Thorpe or more recently Emma McKeon could match that individual tally at the one Olympic Games.
It was an incredible time for Turramurra high on Sydney's north shore. Another Carlile Swimmer, Gael Neall also took Olympic Gold and a world record in the 400 Individual Medley. Two of the sports houses at Turramurra high, are now known as Gould and Neall.
Shane, she would go on to be crowned Australian of the year and then retire from swimming at just 16.
"I swam because I loved it, when it became all about the results and the media and everything else, I just wanted to swim. So instead I took up surfing," Shane said years later.
Surfing and a desire to escape the spotlight would take Shane to Margaret River where she raised a family, off grid. Spending years on a farm with no electricity.
Shane, raised four children and was also prominent in a movement that campaigned to have the region declared Nuclear free. Thus stopping uranium being transported through Margaret River.
Apart from Surfing, Shane became a competitive horse rider, winning the West Australian Ploughing championship two years running in the 1990s.
Wind the clock forward 30 years from her Munich triumphs and Shane was back in the pool, back setting records. In 2003 she set a new World Masters Record in the 200m Individual Medley.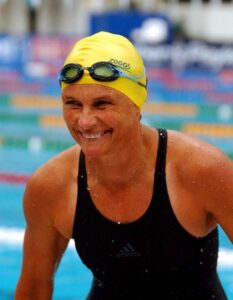 In 2018, Shane showed she had lost none of her competitive drive winning Australian Survivor and in doing so becoming the oldest winner of Survivor anywhere in the world.
Shane, a Doctor of Philosophy, holds master's degrees, in Environmental Management and Contemporary Art and is an accomplished photographer with works on display with the Art of the Olympics.
November 23 is also the birthday of Carlile Director Tim Ford, who won a silver medal in the 1500 freestyle at the 1982 Commonwealth Games in Brisbane. Tim is a Harvard graduate and a current board member of  Swimming Australia.
On November 25, we also celebrate the birthday of the late great Terry Gathercole. Terry, another Carlile coached swimmer, was a dual Olympian who broke ten world records.
Despite those magnificent achievements it is fair to say Terry's influence on swimming exceeded what he achieved in the water. Terry coached Australia for 28 years, producing Olympic Gold medallists such as Ian Obrien and Bev Whitfield. He later became the president of Australian Swimming. His funeral in 2001 was attended by a who's who of world swimming and the then Australian Prime Minister John Howard.
We don't know what it is about November, but it is a stellar month for Australian swimming champions.
Along with the three Carlile stars above, there is an extraordinary list of champions born in November. All of whom are also in the International Swimming Hall of Fame
Michael Wendon, who won the 100m and 200m freestyle double at the Mexico Olympics, both in world record time.
Robert Windle, a three time Olympian and world record holder who won the 1500m freestyle Gold at the 1964 Tokyo Olympics.
Jodie Henry, who won three Gold medals and broke three world records at the 2004 Athens Olympics. Jodie was the first Australian woman since Dawn Fraser 40 years before to win the 100m freestyle Olympic gold.
Cecil Healy, the man credited with taking the Australian Crawl to the world. He won Olympic gold in Stockholm in 1912. Cecil is also the only Australian Olympic champion to be killed in action. He was lost at the Somme in 1918.
Tracy Wickham a two-time world champion and world record holder. How good was Tracy? Her world record in the 400m freestyle at the 1978 World Championships, stood as the championship record for the next 29 years. The time of 4.06.28 would have won the gold medal at four of the next five Olympic Games.