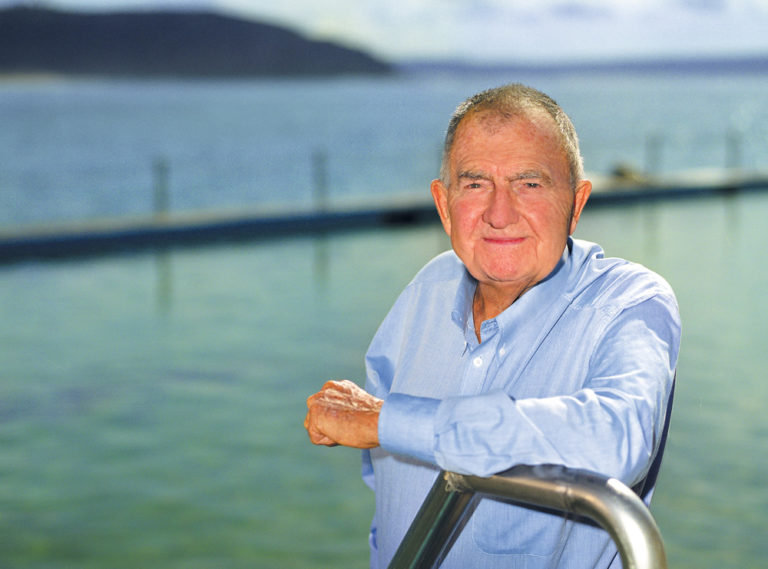 On the anniversary of his passing we remember Forbes Carlile, one of the most influential and innovative figures in the world of swimming and in sport.
Early days
Born in Melbourne in 1921, Forbes grew up in Mosman, Sydney. He confessed to at first being "an unwilling student" during swimming lessons at Balmoral rock pool. However, he came to love the swimming, especially in Sydney Harbour beaches and rock pools.
Many firsts
Among many 'firsts', Forbes is the only Australian to have represented at the Olympics first as a coach and then as an athlete. He was the country's youngest Olympic coach in London in 1948, then as Australia's first-ever Olympian in modern pentathlon in 1952.
Forbes studied at the University of Sydney under Professor Frank Cotton, graduating and later lecturing in human physiology. Together with Professor Cotton, they set up Australia's first Sports Science lab at the University of Sydney. In 1946, at the Palm Beach rock pool, the pair set up a scientific swimming group.
It was here that Forbes was able to structure training and measure the performance of athletes year round. This enabled him to revolutionise training techniques with the development of interval workouts, log books and heart-rate monitoring. It was also at Palm Beach that Forbes first introduced the pace clock. This innovation has left the Carlile stamp on virtually every pool deck around the world.
Forbes was also the first to introduce lane ropes and goggles as training aids for competitive swimmers.
Success in numbers
Forbes coached 52 members of Olympic, world championship and Commonwealth Games teams. Between them, they broke 31 individual world records and won 12 Olympic medals, including five gold. He participated in five Olympic Games – London, Helsinki, Melbourne, Rome and Tokyo between 1948 and 1964. He was Australia's head coach in 1956 and the team's scientific advisor in 1960. In 1964, he was head coach for the Dutch Olympic team and remained part of the Australian team until 1980.
Science and rigour
While his methods were for all ages and levels, he introduced scientific rigour to modern swimming with training techniques such as tapering, warm-ups and shave downs. His 1963 book, Forbes Carlile on Swimming, remains the must-have book on freestyle.
Start of swim schools
While competitive swimming was a passion of Forbes, he was also a pioneer in the development of learn-to-swim techniques, especially in the area of baby swimming. In 1955 he opened Australia's first commercial swim school at Drummoyne pool, a tidal pool which filled from the harbour on a daily basis. He relocated to the Ryde Swimming Centre in 1961 with his wife Ursula, also a swimming coach. A few years later they built the first indoor, heated teaching facility in NSW, in the backyard garage of the house they rented nearby.
Garage to growth
That garage was the start of year-round swimming lessons. Today Carlile swimming continues to operate out of this now updated facility. And some customers are the great grandchildren of the Carlile's original students. It is one of eight Carlile swim schools in Sydney with a ninth opening at Freshwater in October 2019.
International recognition
Forbes was inducted into the International Swimming Hall in 1977, the same year he was made a Member of the British Empire. He was inducted into the Australian Sports Hall of Fame 12 years later. Ursula Carlile remains an active Director and owner of Carlile Swimming, overseeing the successes and legacy she and Forbes have created.
"Mellow he is not. He is the same Carlile, still up there on the barricades he helped to erect defying the established order, catching brickbats and waving the flag of tomorrow." (Coles Phinizy, Sports Illustrated, 1975)
Forbes Carlile's "innovative ideas about sports physiology made him one of the world's best-known swimming coaches and authorities on the sport". (Frank Litsky, The New York Times, 2016)
Forbes Carlile "left an enormous legacy on the world of swimming and will be remembered by former and current swimmers and coaches from all around the world." (Australian Olympic Committee, 2016)