A new year is often a great time to reflect. If you are looking for a change and a role with purpose becoming a swimming teacher is a wonderful choice. Working with children, helping them progress and watching them discover the joy of swimming is special.
To be a great teacher all you need is to love children and have a desire to engage them and help them learn. Carlile Swimming can help with the rest.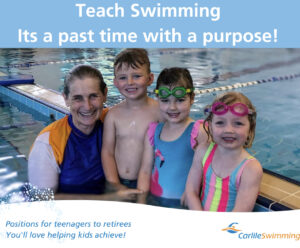 Whats the Benefits?
Swimming teachers, measure their days in smiles but the benefits go much further. As a swimming teacher you can:
Enjoy flexible hours to fit your family or study commitments.
Work as a casual, permanent part-time or full-time employee.
Build a career in the swimming industry, as a teacher, supervisor, coordinator, manager or swim school owner.
Obtain a qualification you can use to work all over Australia and internationally.
Learn transferable skills in many areas including time management, customer service and risk management.
Help keep children safe and give them a skill which will stay with them forever.
Most of all, you will work in a fun positive environment.
However, becoming a swimming teacher isn't as simple as just turning up at your local swim school. Although, Carlile Swimming makes it as easy as possible.
To work as a swimming teacher in Australia you must be 16 years or over and obtain:
A nationally recognised accreditation.
A Working with children check.
A current CPR accreditation
A rescue swim qualification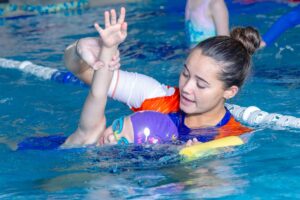 To become an accredited teacher normally involves attending a course with both online and face-to-face instruction, plus doing 30 hours of on-the-job training at a swim school. These courses can cost more than $400.
Carlile Swimming opened Sydney's first indoor teaching pool and pioneered teaching babies to swim. If you do your training with Carlile, you will:
Save as the cost is only $180
Do your 30 hours of on-the-job training as part of Carlile's onboarding process
Do your rescue swim with Carlile
Obtain an accreditation recognised Australia wide and internationally
Receive an Australian Swim Coaches and Teachers Association Graduate Membership which includes Teacher's insurance for three years
Why be a swimming teacher?
Today Carlile provides more than a million lessons a year with teachers working in a world-renowned program that caters to babies through to Olympians. If you'd like to join us find out more here
Trainee teachers are given the support they need to develop great teaching skills. All you need is to be enthusiastic and to love children. You will work with supervisors and spare teachers to assist in maintaining lesson quality.
The program you will work within, is considered one of the world's best. It has been refined over the years and is designed to help children learn the skills they need to confidently progress to the next level.
Carlile teachers can learn skills teaching baby's, pre-school and at school learn to swim, stroke development and coaching squads.
The competitive program is the most successful in Australian swimming history. Founded by International Swimming Hall of Fame coaches Forbes and Ursula Carlile, it is now led by international coach Chris Nesbit who has placed swimmers on Olympic teams 28 times.
Forbes Carlile, Australia's first Olympic Swimming coach, was an innovator and his passion for continuous improvement is a legacy which still guides Carlile today.