"In the water without a wheelchair, being free, it's a wonderful feeling." 
Australia's most successful para sportswoman, Louise Sauvage OAM, was born with her disability. But at just three years old, she found an escape from its limitations: in the water.
Learning to swim was a huge step in confidence for a toddler who would go on to capture the heart of a nation, be inducted as a Legend in the Australian Sport Hall of Fame and race her wheelchair to a medal tally that includes:
Two Olympic wins (800m demonstration events in Atlanta and Sydney)
Nine Paralympic Golds
11 world championship Golds
4 Boston Marathon victories
Today Louise is an Ambassador for the Rainbow Club, a network of social swimming clubs helping more Aussie kids escape from the constraints of their disabilities, giving them the same opportunities in the water as anyone else.
"For some kids with disabilities, they can't go along to Sunday morning sport like their brothers and sisters, because they can't participate or they don't belong. They're different," Louise said.
The legendary athlete knows the importance of belonging and feeling welcomed can't be overstated   "as soon as they come to the Rainbow Club, they fit in, they can participate and not feel 'odd,' so to speak. I mean, that's fantastic."
For a child on the Autism Spectrum or with another physical disability, a pool filled with water can be frightening. On top of that, an instructor's divided attention during group lessons can be stressful for parents, the child, and their teacher.
But the Rainbow Club has developed a solution that makes finding the right swim school easier: personalised lessons, tailored to a child's ability.
According to General Manager Catriona Barry, individualised lessons that "take children out of that group situation and give them one-on-one attention… Not making them feel bad or casting judgement," is what sets the Rainbow Club apart from mainstream classes.
The unique "Swim The Rainbow" program adapted from Carlile's approach to learn to swim, helps children set goals based on the colours of the rainbow. This is a fun and engaging way to help swimmers overcome fears, build confidence and improve swimming ability.
Many learners will eventually re-enter mainstream lessons or squads, preparing them for a safe, healthy Australian lifestyle around our country's waterways. "It gets them into fitness and improves mental health; all those things that swimming does for everyone else," says Catriona Barry.
Rainbow Clubs from across NSW recently gathered for an inter-club carnival, where children had the chance to race each other and show off their skills in front of family and friends.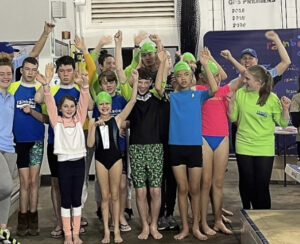 The carnival gave the children a sense of the thrill of competing in a friendly environment where the emphasis was on doing your personal best.
Things will get a little more serious next week at the 2022 Birmingham Commonwealth Games. It is the world's best showcase of inclusion in sport as  the Games are the only major multi-sport event that fully integrates para-events into the main program. Even the Olympic Games separates para-athletes into the Paralympics.
This year's Commonwealth Games will also see Australia's most successful para-athlete in the pool, Ellie Cole, chasing an elusive milestone. Ellie has a medal cabinet bursting of Gold including six Paralympic golds, and three more at the world championships but amazingly has never won gold at the Commonwealth Games. Birmingham will be her last competitive race, let's hope she can complete her collection.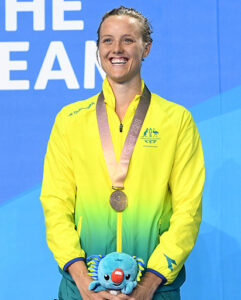 And as Ellie and her team-mates will inspire children from across the country, sadly Rainbow Club has  a waitlist of approximately 1,000 children at more than 40 locations in NSW with QLD soon to follow. To get more children swimming the Rainbow Club needs more teachers. You can find out more here 
For anyone wanting to get involved and actively improve the lives of  young Australians, Louise Sauvage couldn't recommend the program any higher, "It's a fantastic organisation. The work they do is tremendous. So if anyone is out there wanting to become more involved, I think it's a great opportunity."
The nurturing approach at the Rainbow Club builds confidence and lets children see that almost anything is  possible.
If you're a parent of a child living with a disability, Catriona's message is to consider your child's individual needs. "If group lessons are becoming stressful, something that's going to turn them off swimming, or if there's any sense of judgement there, take a break and try the Rainbow Club. Each person with a disability is just one person, and their needs are all very different."
Carlile Swimming is a proud partner of the Rainbow Club, currently hosting weekend sessions at their Cherrybrook, Five Dock, Freshwater, Lane Cove West, and Norwest pools, giving families more local options to help their child into the water.
This year Carlile staff also raised more than $13,000 for the Rainbow Club in the lead up to the Murray Rose Malabar Magic Ocean Swim.