Today, International Women's Day we celebrate the careers of two ground-breaking Australians who helped lay the foundations for those who followed, Ursula Carlile and Shane Gould.
The pair will be forever linked by the unprecedented events of the 1972 Munich Olympics.
Ursula had made history by being named in the team. The first woman to coach Australia at an Olympic Games.
In a world of dominate men, it was a remarkable milestone and even on the team she had to fight for the respect that was rightfully hers.
"Most of the coaches were pretty good, but there was one who always thought he was right. Even when he was wrong," Ursula quipped years later.
Ursula and her late husband Forbes had shaped the careers of both Gould and her team-mate Gail Neall, who would win the 400IM Gold in Munich.
But it was the bond with Gould that stood out. Forged through many long hours driving to country swimming meets together and the countless hours at Ryde pool.
"She was wonderfully gifted, and we really did get to know each other really well," Ursula recalls.
The always modest Ursula remembers Munich well. The horrible events of the massacre but before that Shane's amazing record. The 15-year-old won five individual medals at the one Olympics. For perspective, not Thorpe, Spitz or Mckeon could match that record.
"That really was an incredible time, Shane was just so good, but I did feel Forbes deserved more of the credit," Ursula said.
"I was working with her but as much as anything I was giving her the programs that Forbes had developed, she worked hard, maybe not as hard as some others because she just had so much natural ability."
Amongst Shane's five medal haul in Munich were three golds, all in world record time.
Ursula's timeless career broke down barriers for women across the globe, with Forbes they are the only husband and wife team to be inducted into the International Swimming Hall of Fame.
"Ursula is a remarkable woman, with Forbes she pioneered some of the most important innovations in world swimming," said Carlile director and former Australian champion Richard Cahalan.
"Things like the pace clock, circle swimming and heart rates, they were always looking for an edge."
Ursula's career also included stints with the Dutch Olympic team in 1964 and an honorary role as coach of China. A step that put her on a collision course with swimming's officials.
This was an era when most of the western world hadn't recognised the Chinese government.
"Ursula took the fall for that. She stood up to the officials against threats of being banned. One tough, principled lady,' Mr Cahalan said.
In what was a unique and remarkable coaching partnership it's fair to say Ursula had the business brains.
"It was really Ursula who understood how important learn to swim teaching could be in terms of a business. A business which would then support elite swimming," Mr Cahalan said.
Ursula adding "Forbes never really cared about money, we had an amazing life travelling the world coaching, he always felt that somehow the money would be there and inevitably it was."
Carlile Swimming now operates nine teaching pools across Sydney and is recognised as one of the world's Leading swim schools.
As for Shane, she would go on to be crowned Australian of the year in 1973 and then retire from swimming at just 16.
"I swam because I loved it, when it became all about the results and the media and everything else, I just wanted to swim. So, instead I took up surfing," Shane said years later.
Surfing and a desire to escape the spotlight would take Shane to Margaret River where she raised a family, off grid. Spending years on a farm with no electricity.
Shane, raised four children and was also prominent in a movement that campaigned to have the region declared Nuclear free. Thus, stopping uranium being transported through Margaret River.
Apart from Surfing, Shane became a competitive horse rider, winning the West Australian Ploughing championship two years running in the 1990s.
Wind the clock forward 30 years from her Munich triumphs and Shane was back in the pool, back setting records. In 2003 she set a new World Masters Record in the 200m Individual Medley.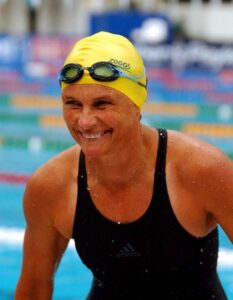 In 2018, Shane showed she had lost none of her competitive drive winning Australian Survivor and in doing so becoming the oldest winner of Survivor anywhere in the world.
Shane, a Doctor of Philosophy, holds master's degrees, in Environmental Management and Contemporary Art and is an accomplished photographer with works on display with the Art of the Olympics.