Swimming pools offer endless fun and relaxation, especially during the summer months. For families with children, they are a source of joy and memorable moments. However, the overwhelming majority of drowning deaths in children aged under four are from falling into water, most in baths and pools. It's crucial to prioritise pool safety.  
With staggering statistics being released this year, pool safety has never been so important. More than 40 per cent of children leaving primary school can't swim 50 metres or stay afloat for two minutes. 
This is alarming, especially in Australia, a nation surrounded by water where swimming is our most successful Olympic sport. It's just not good enough.
Supervision is Key
Never underestimate the importance of constant supervision when kids are around the pool. Designate a responsible adult as the "water watcher" who keeps a vigilant eye on the swimmers. This person should refrain from distractions like texting or engaging in conversations to focus solely on watching the pool. Alcohol and water don't mix. Your designated "supervisor" should be sober. 
Small non-swimmers should also be kept at "arm's reach" in other words an adult should be in the water with them. Don't trust floatation devices.  be within arms reach:
Teach Swimming and Water Skills
Most children who die from drowning do so after a fall because they lack the skills to keep themselves afloat and get to safety. 
Enrol your children in swimming lessons at an early age. Teaching kids how to swim is one of the most effective ways to enhance their pool safety. Encourage them to acquire essential water skills, such as back floating, to ensure they can handle themselves in various situations.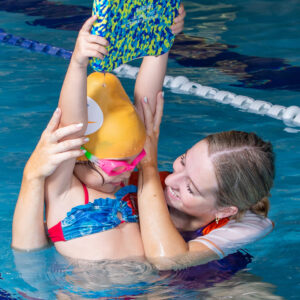 Install Barriers and Fencing:
 A pool fence is a crucial safety feature. Make sure your pool is enclosed with a sturdy, non-climbable fence that is at least 1.2 metres high. Self-closing and self-latching gates are essential to prevent unsupervised access. Also make sure there is nothing a child could use to climb over the fence. Barriers are a vital layer of protection to keep children out of the pool area.
Learn CPR
"While swimming lessons are the most important thing, they are not everything. Young children have to be supervised at all times. Plus, everyone should know CPR," says Carlile  CEO Jon Harker. 
Every parent should know CPR (Cardiopulmonary Resuscitation). In case of an emergency, this skill can be a lifesaver. Consider taking a CPR course to ensure you are prepared for any pool-related accidents.
Check Drains and Suction Covers
Pool drains and suction covers can be dangerous, especially for small children. Ensure these are compliant with safety standards and regularly check for any damage or malfunction. Teach your kids to stay away from drains and never play with them.
Pool safety is non-negotiable when it comes to protecting your children. These pool safety tips are essential for every parent to follow to ensure a secure and enjoyable pool environment. Remember, vigilance, education, and preparation are key to preventing accidents and providing peace of mind for your family's pool activities. By prioritising pool safety, you can create lasting memories without compromising the well-being of your loved ones.