Every child deserves the opportunity to learn to swim. That premise has guided the Rainbow Club and its swim schools from the very beginning.
Carlile community partner Rainbow Club, a National Disability Insurance Scheme provider, offers swimming lessons for children with a disability at 50 locations.
This not for profit organisation ensures children who cannot join mainstream swim schools have the chance to receive the same essential learning opportunities. 
The CEO of Rainbow Club Catriona Barry has recently announced that she will be retiring after serving a distinguished ten-year term in the role.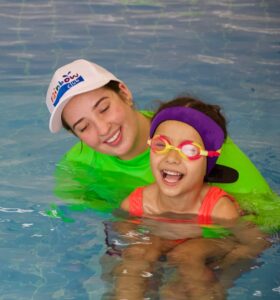 A champion of learn to swim inclusion
"Catriona has made an enormously valuable contribution to Rainbow Club as CEO and will leave the organisation in a strong and growing position " said Rainbow Club President Alexandra Finley. 
Rainbow Clubs values go hand in hand with that of Carlile Swimming. Increasing children's confidence in and around the water is a vital goal that we share. 
The Program "Swim the Rainbow" was developed with assistance from Carlile Director Richard Cahaln and helps enable a child to progress more quickly and many do go on to participate in group classes. 

"Carlile is a proud partner of Rainbow Club and Catriona has been an absolute driving force. She is easy to work with and has been instrumental in providing access to swimming lessons to so many children who otherwise would not be able to learn," said Carlile Swimming CEO Jon Harker.
Swim School growth
Under Ms Barry's leadership, membership capacity has grown five fold from 400 to almost 2000 and the number of Rainbow Clubs has grown from 16 to 50, expanding into regional NSW and Brisbane. 
Catriona says she has loved her time with Rainbow Club. The leader regularly has to remind herself that there are 2,000 young people with a disability learning to swim every weekend.  50 Rainbow Club Swim Schools is an enormous achievement and Rainbow Club continues to grow.
You can find Carlile's Rainbow Club Swim School locations here.
  "Our clubs run smoothly thanks to the teachers and volunteers. We all recognise the importance of swimming and water safety, and we know it is a skill our members will have for life and it may even save their life. Importantly it is a social connection every weekend" she said.
Catriona has dedicated her working life to helping others. Prior to Rainbow Club, Catriona was the CEO of Special Olympics Australia. 
"During Catriona's time Carlile has added four new Rainbow Clubs and we've been able to help open the door to our friends at Rackley Swimming in Queensland which will drive more growth. Catriona is directly responsible for helping countless youngsters learn to love swimming," Mr Harker said.
"The joy you experience going to a Rainbow Club swimming carnival is palpable."
 The Rainbow Club Board and all of the team at Carlile Swimming wish Catriona all the very best in her retirement. She is highly respected and warmly regarded by all at Rainbow Club and will be sorely missed. Find out more about Rainbow Club Swim Schools here.