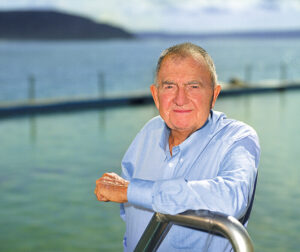 Today we celebrate the life of our founder, a legend of swimming Forbes Carlile who was born on this day 102 years ago.
From teaching babies to coaching Olympians the name Forbes Carlile is entwined with the history of Australian swimming, Forbes pioneered techniques that are now used around the world.
Forbes, who sadly passed in 2016, started his journey in 1946 at the idyllic Palm Beach rock pool. There he produced the first of his many world record holders, Olympic Gold medallists John Davies.
Forbes was a scientist working with the legendary professor Frank Cotton at Sydney University "He wanted to get into the practical side of sports, and I became his vice-president of swimming so to speak," Forbes joked years later.
He was standing on the edge of the Palm Beach pool, speaking to Ian Thorpe about one of the golden eras of Australian swimming.
"It all happened right here (Palm Beach), our scientific approach to swimming."
"Whereas Boy Charlton may have swum a mile a day, we were doing five miles."
By measuring the impact on the body, Forbes proved that humans could work much harder than previously believed and still recover to do it again.
"I think the swimmers also appreciated the fact that he himself had shown how hard you could push the body," coaching and life partner Ursula Carlile reflected.
Forbes has the unique distinction of being the only person to coach at an Olympics before competing. In 1948 he was the coach of Australia's swimming team, in 1952 he competed in the modern pentathlon.


He would go on to revolutionise swimming:
inventing the pace clock – an iconic innovation now found on pool decks worldwide
Pioneering the use of circle swimming, interval training, lane ropes and goggles
Pioneering sports science, introducing blood tests, heart rate checks and log books
Pioneering the teaching of babies
Opening Australia's first commercial swim school at Sydney's Drummoyne pool in 1955
Opening Sydney's first indoor teaching facility at Cross street in Ryde in 1962
"You couldn't imagine what Forbes has done, Forbes built the coaching profession," said Olympic gold medal winning coach Laurie Lawrence.
"Before Forbes the coaches couldn't get a look in, he fought for that."
Forbes was indeed part of the birth of modern coaching. In 1956, a time when there was no warm water, Forbes was one of a band of coaches who took Australia's leading swimmers to Townsville in the tropical north, to train through the winter in preparation for the Olympics.
At the time professional coaches were banned from the Games. Forbes promptly found an answer "I got a job at the ABC calling  the swimming, so I could coach my pupils," he said. Others got jobs writing for newspapers. The result, Australia's most successful Olympics winning 8 of 13 events including every freestyle race on the program.
Ursula says proudly "He'll be remembered as controversial and outspoken. Can you imagine anything so ridiculous, coaches banned from the pool deck. Forbes would get so angry, of course he was right, and he fought and fought."
"Officials would get sent away with teams, didn't matter how incompetent they were, if it was there turn, off they'd go, but no coaches."
Eventually and as usual Forbes won, Australian swimming officials would never ban the coaches again. His status as a legend of swimming was assured but so much more was to follow.
It was one of many fights Forbes waged to improve swimming. He also campaigned strongly against the use of performance-enhancing drugs and in later years he led a successful campaign to ban the so-called super suits.
"Once he had his mind set on something there was no stopping him," Ursula said.
The pair met when Ursula, about to graduate from University, came to learn to swim with the young coach.
"My father was a school principal and we moved around a lot and I'd managed to get through school never having learnt to swim. I then finished (top of her year) with a Physical Education degree, and the last thing I needed to graduate was to complete a swim. So, dad sent me off to this young coach to learn."
Was it love at first sight? "It certainly was for Forbes. I thought about it for a little while. My mum and dad even longer," Ursula said with a smile.  "They thought, he'll never make any money, never be able to support you."
Ursula says her fondest memories of Forbes, were those early years travelling with swimming, when money was scarce.
"Forbes never worried about money, he always thought one way or another it would take care of itself. We would work through summer coaching and then travel. We'd get ourselves invited to work with other coaches and off we'd go," Ursula said.
Indeed, their wedding day and "honeymoon" was a typical example. Forbes came back to Sydney from Townsville where he was working with the 1958 Australian Commonwealth Games team.
They were married the next morning at the registry office, had a quick cup of tea with Ursula's parents and a few friends and that afternoon went straight back to Townsville to the Australian team's training camp.
How ironic that a young girl who had grown into an adult that couldn't swim, would go on to be the first woman to coach Australia's Olympic Swimming team.
On the subject of swimming legends, the pair also produced one of the greatest swimmers of all-time, Shane Gould.
At just 15 Shane held every freestyle world record simultaneously, a feat that has never been repeated.  At the 1972 Munich Olympics Shane won three golds, all in world record time.
Asked about her own history-making role coaching at the 1972 Munich Games, Ursula is as always modest.
"I really felt that Forbes should have been given much more credit. I was simply coaching Shane through the programs that he was giving me."
But the success of the Carlile's didn't start or end with Shane, they built the most successful swimming organisation in Australian swimming history, with:
More than 240 Australian
Championship Gold medals
70 Australian champions
55 Australian representatives
8 World Record Holders
Yet, as so many of their champion athletes attest, the key to Forbes was his interest in developing great people, not just champion swimmers.
"Forbes gave me life skills not just swimming skills," says former world champion and world record holder Jenny Turrell.
And so it was, when entering the Carlile training quarters in Ryde you would read this sign.
"Our object is not to produce a champion but to create an atmosphere where champions are inevitable.
 However, swimming is a means to an end…to build self-confidence, self- discipline, integrity and courage for life."
Carlile alumni include those with achievements well beyond the pool, business leaders, academics, judges and media stars. People who took the lessons of dedication and integrity from the pool to build wonderful lives.
Forbes and Ursula are the only husband and wife coaching team in the International Swimming Hall of Fame, but you could argue that it was in learn to swim that they made the greatest impact.
Their first would change the course of swimming in Sydney and provide the financial stability they needed to continue to produce champion athletes.
While renting a home in Sydney, where the owner ran a caravan repair business out back, the Carlile's decided to knock down the garage and build Sydney's first indoor teaching pool.
"The owner was somewhat perturbed when he came home from holidays to see we had knocked down his garage and started a pool," Forbes said years later.
Ursula added, "We had a verbal agreement to buy it but nothing on paper, but we were always going to buy it, so we did. I'm sure it probably cost us a little more."
Warm water allowed the Carlile's to experiment with teaching babies to swim, something now done throughout the industry.
"I didn't believe in baby teaching," says Laurie Lawrence. "Then I had my own daughter and got interested, but of course Forbes had already started years before."
Forbes recalled it well "There on the doorstep, 6 o'clock one morning was Laurie saying "I haven't come to see your swimmers. I want to see your babies."
"As soon as I saw it, I couldn't believe it. What these babies could do," Laurie said.
Today Carlile provides more than 25,000 lessons a week. You can discover more about our program here. All with the goal to continue the founders' legacy.  As Forbes said "To swim well is an asset for life" his love of teaching and thirst for continuous improvement still inspires us today.