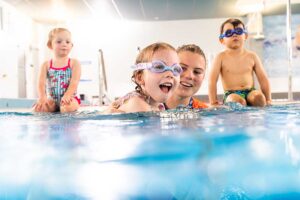 Are you studying and looking for a flexible job? Or perhaps looking for a change or even to get back into work.If you want to have a job that makes a difference, then become a swimming teacher.
Being a swimming teacher is incredibly fulfilling. You work with kids, see them grow, and watch them fall in love with swimming.
Here are just some reasons why you should become a Carlile Swimming Teacher:
Flexibility
Enjoy flexible hours and work as a casual, permanent part-time or full-time employee to fit your family or study commitments.
Help save lives
Teach children a lifesaving skill which will stay with them forever. With drownings increasing, it is an important job to help children learn to swim and it is incredibly rewarding.
A fun social team
Be a part of a fun, friendly, fast paced, and supportive team. Carlile is a fun and positive environment that brings out the best in everyone.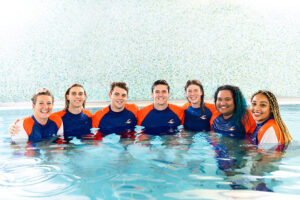 Save money with all training provided
To become an accredited teacher in Australia, you need to complete a course that includes both online and in-person education as well as 30 hours of on-the-job training at a swim school. These programmes can set you back more than $400.
If you do your training with Carlile, you will:
Save as the cost is only $180
Do your 30 hours of on-the-job training as part of Carlile's onboarding process
Do your rescue swim with Carlile
Obtain an accreditation recognised Australia wide and internationally
Receive an Australian Swim Coaches and Teachers Association Graduate Membership which includes Teacher's insurance for three years.
Build a career
Build a career in the swimming industry, as a teacher, supervisor, coordinator, manager or swim school owner. Obtain a qualification you can use to work all over Australia and internationally.
Weekend bonuses
Earn extra money when you work on the weekend. Carlile understands that working on the weekends might not be ideal for everyone, so those that do are rewarded.
Earn an extra $100
When you are a teacher at Carlile and refer a friend who joins the team, you will receive $100.
To find out more about joining the Carlile team click here.