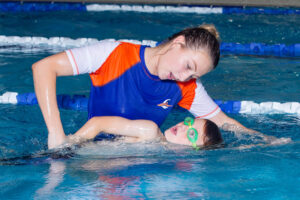 With the Netball and Footy season starting up soon, we know time can get tight, but if your child is still learning to swim now is not the time to stop.
There was a time, before Forbes Carlile built Sydney's first indoor teaching pool, when winter meant the end of swimming. Today  we know the benefits of swimming through winter are immense. That means the best answer is do both because swimming actually helps improve the performance of alternative activities.
But before we examine those benefits, here are five reasons to stay in swimming lessons through winter.
Learning to swim is not a sporting activity, it's a lifesaving skill. Sadly, more than 40% of children leave primary school unable to swim 50 metres.
Swimming in a purpose-built indoor pool is never "rained out"; it's one activity you can rely on. Plus it's warm.
Continuing swimming lessons will help your child improve, taking a break children can forget their skills and find re-starting difficult and frustrating.
Swimming helps build stronger immune systems
Given the demand and long wait lists, should you take a break, Carlile will not be able to guarantee you a spot that suits your schedule when you want to return.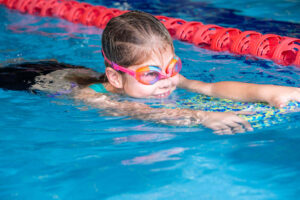 As for how swimming helps your children's other activities there are countless benefits that fulfill the physical requirements your child needs to perform in their other sporting endeavours.
Coordination skills  – Swimming is a hard skill to master, the coordination skills built during swimming lessons make other sports easier and more fun. In swimming lessons children are using multiple muscles throughout the body simultaneously. The arms and legs are often being used at the same time but going in different directions. This involves children needing to activate parts of their brain to execute these movements.
Stamina and endurance – Swimming helps build big "engines" as sports coaches are found of calling them. This is because  there is much greater resistance in the water than in the air, so it's one of the best ways to build stamina quickly. Nearly every muscle in the body is engaged when swimming making it a full body workout!
Cardiovascular health – improving circulation and cardiac efficiency lessens the risk of diseases later in life. Children learn to use oxygen more effectively and can utilise this skill in any sport that involves the cardiovascular system. In turn, they are more likely to perform at a more competitive level.
Positive attitude towards exercise – Swimming doesn't come easy and it fosters a positive attitude towards exercise. When children can master the skills of swimming, the confidence in their ability to perform movements in multiple different sports increases immensely.
Low impact – There is very little risk of injury in such a low impact sport. Land sports, as much as we love them, all put a higher level of stress on the joints. The gentle nature of doing laps pairs perfectly with high impact sports.
Many professional land athletes do swimming at the same time or as part of their training program. Athletes understand that swimming provides a high level of cardio with minimal stress on the body, allowing them to do additional training without putting further stress on their joints.
If  you are still wondering why to keep your kids in swimming lessons, consider five more benefits:
1 – Be smarter and happier.
Memory function, thinking skills and your mood is improved by exercise and swimming is an exercise for life. No impact makes it a pastime that doesn't stress your joints, plus it burns more calories than jogging and the truth is, it's fun. If you don't believe it makes children smarter check out the research from Griffith University here, it found children who attended regular lessons improved physical, emotional, social and cognitive skills. Compared to the non-swimming population, the 3 to 5 years old's in the study were:
11 months ahead in verbal skills
6 months ahead in math skills
2 months ahead in literacy skills
17 months ahead in story recall
20 months ahead in understanding directions
2 – Swimming teaches goal setting
Swimmers are always looking to get better. As each goal is achieved, they look toward the next one. In time that philosophy becomes part of them, a foundation for goal setting in both their personal and professional life.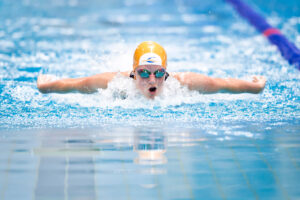 3 – Kids who swim become active adults
Swimming builds endurance, strength and flexibility, three things vital in combating childhood obesity. The cardiovascular advantages build a platform for children to take into any other sport in or out of the water.
4 – It's a pathway to so much fun
As a nation surrounded by water, swimming is what Australians do. Not only is it our most successful sport, it opens the door to surfing, body surfing, water polo, surf lifesaving, sailing, water skiing and countless other activities in and around the water.
5 – It keeps you young
You can't stop time, but swimming can help fight the impacts of ageing. It helps reduce blood pressure, maintain muscle mass, improves oxygen and blood flow to the brain, and increases cardiovascular health.
The answer is, don't quit. After all its fun. As for swimming through winter, if you'd like to read about how Forbes Carlile helped hatched a plan that changed Australian swimming forever and led to our most successful Olympics then you can by reading about the legendary coach on the anniversary of his birthday, read about it here.