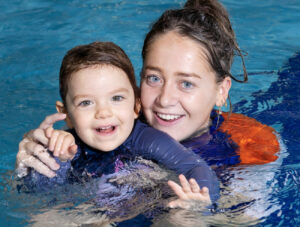 Spring is just around the corner, is your child booked into swimming lessons? With winter sports winding down, from babies to school age, now is the perfect time to get children back into the water to improve their swimming skills.
Swimming well is a gift for life, improving children's confidence and opening the doors to so many sporting and leisure activities in Australia. It's also a skill than can save a life.
Tragically last summer, after two years of COVID-19 interruptions with learn to swim centres closed, there was a devastating 30% increase in drownings.
While being able to swim well is not the only factor in staying safer around water it is the most important. Babies can begin to learn water confidence from three months and children shouldn't stop before they can swim 400 metres of freestyle with good technique.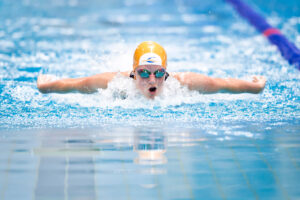 Sadly, almost 50 percent of children leaving primary school cannot swim even 50 metres or stay afloat for two minutes. Do you believe your child would be capable in the surf or if they fell from a boat if they could only swim 50 metres?
Here are 10 reasons to keep your child swimming.
Swimming saves lives. In Australia water is everywhere. The beach, rivers or dams, being able to "make" 50 metres in a controlled environment at the school swimming carnival does not mean a child can save themselves if they are caught in a current or fall out of a boat.
Improves physical, emotional, social and cognitive skills. A four year research study by Australia's Griffith University found that three to five year olds who attend regular swimming lessons were:

11 months ahead in verbal skills
6 months ahead in mathematic skills
2 months ahead in literacy skills
17 months ahead in story recall
20 months ahead in understanding directions

Great fitness. Swimming is a skill which can help keep you fit for the rest of your life. It is low impact, provides a while body workout, is great for the cardiovascular system, has proven mental health benefits and helps improve sleep.
Reduce stress and anxiety. Swimming has been proven to help reduce stress and anxiety in children and adults. It assists with better sleep patterns, aids digestion, the calmness of gliding through the water is soothing and the physical activity releases endorphins which is the body's natural way of making us happy.
Improved motor skills. Children's motor skills improve by learning to swim and the physical activity helps improve memory and leads to increased energy.
Builds character. Swimming doesn't just happen naturally, it takes work, dedication and discipline.
Time management. Children who go on to be competitive swimmers learn great time management skills and often excel in many other areas of life. Carlile swimming alumni includes many business leaders, judge, academics and successful media personalities.
Builds confidence. For a child, being able to swim well is great for confidence. It could be as simple as doing well at the school swimming carnival or taking part in any other water- based activity. They will approach these things without apprehension, knowing "I've got this".
Swimming is a gateway. Learning to swim provides benefits well beyond doing laps for enjoyment and fitness. It opens the door to competitive swimming, water polo, surfing, surf lifesaving, and a host of other activities.
It's fun. For kids swimming is fabulous fun. With the right nurturing approach, even hesitant children learn to love and respect the water.
If your child is not currently enrolled in swimming lessons book now