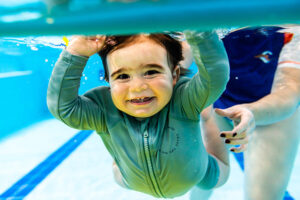 Learning to swim without goggles is a vital safety step for all children.
Most drownings amongst young children occur because of accidental falls. The chances are, they are not wearing goggles when it happens.
Falling into water can be scary enough, but it's worse if a child is not accustomed to water on the eyes and keeps them shut and can't see where they are.
That's why we encourage children in water confidence classes not to wear goggles and gently sprinkle water over their faces before eventually practicing submersions.
These things are never rushed, they are done when children are comfortable and know the verbal cue to be ready to go under. Back floating and turning to swim to the edge are other important survival skills for toddlers not yet able to use their "big arms".
"Encouraging your kids not to wear goggles all the time in the water is really important," said Richard Cahalan, Carlile Swimming Director.
"Later, we encourage children to wear goggles during their lessons if they want to. Of course, it's not a necessity but most are more comfortable putting their faces in the water if they can see what's going on beneath it"
"But trying a few swims without goggles will ensure that your child has the confidence to swim without them, which is why during game time in our lessons we encourage children to take them off"
So, the answer is to swim – with and without goggles.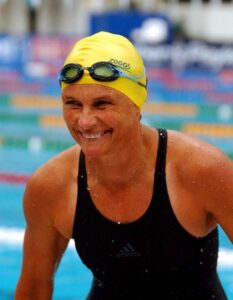 Since you'll find a pair of goggles in any swimmers' bag, including that of the great Shane Gould pictured above still in the swim, what are the humble origins of this swimming staple? The idea came from Shane's ever innovative coaches Forbes and Ursula Carlile.
Towards the end of the 1950's, the Carlile's introduced goggles at the Drummoyne salt water pool in Sydney. These first goggles, known as "protector" were made by a Sydney company which produced industrial goggles. In terms of design, they were not so far from what we still use today.
They were simple, light goggles with a single eyepiece joined over the bridge of the nose. They featured an adjustable string to fit each swimmer's individual face. Designs have improved and have certainly become more expensive but those original prototypes led the way.
During their trips overseas in the late 1950's and early 1960's, Forbes and Ursula handed out their goggles to very intrigued and grateful Californian swimmers, who couldn't find anything similar in the United States.
Like the pace clock that Forbes first deployed in the late 1940's it was an innovation that changed swimming forever.