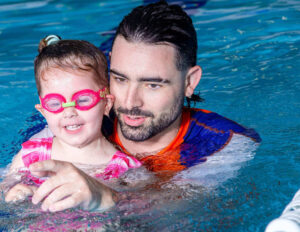 Indoor Pools will reopen for swimming lessons on the Monday after NSW vaccination rates reach 80 per cent.
Swim Schools will be allowed to operate with fully vaccinated staff, with non-vaccinated children accompanied by a fully vaccinated parent or carer.
It's a victory for common sense with the Government reversing its original decision to delay reopening indoor learn to swim centres until December 1.
"It's a tremendous result. The Government's motivation is the same as ours, to save lives. It will be great to get back teaching children this vital skill," said Carlile Swimming General Manager Jon Harker.
"Full credit to everyone in the industry who lobbied for this result, and we owe thanks to the Sydney media who got behind the cause."
Last year, after a shorter lock down Australia had a terrible increase in drownings, so the decision was vital. There has been no case of community transition in swimming pools and the virus can't survive in properly treated water.
If your child isn't enrolled for swimming lessons, you should book now.
The pools will open for organised lessons only, with no public lap swimming or play time.
Staff, parents and carers entering the facilities will need to be fully vaccinated and other COVIDSafe protocols will be in place.
This will include:
All staff and visitors over 12 wearing masks on pool deck
Numbers limited to one person per 4square metres of indoor space
COVIDSafe QR check-ins and proof of vaccination
Only one carer or parent per child
Swimmers over 16 must be fully vaccinated
We would also encourage you to "wrap and go" to avoid delays and overcrowding the change rooms. After-all its spring and getting warmer so a quick dry and throw on a hooded towel will be perfect.
The next step for the industry, which delivers $9billion in economic and social benefits to the economy is to attract more teachers.
Lockdowns have led to teacher shortages across the industry, "It's a great career for anyone who loves the water and loves kids. "
Carlile Swimming opened Sydney's first indoor teaching pool and pioneered baby and toddler swimming. Trainee teachers can gain a national accreditation with Carlile that would enable them to work anywhere in Australia.
We are looking forward to seeing everyone back at the pool.