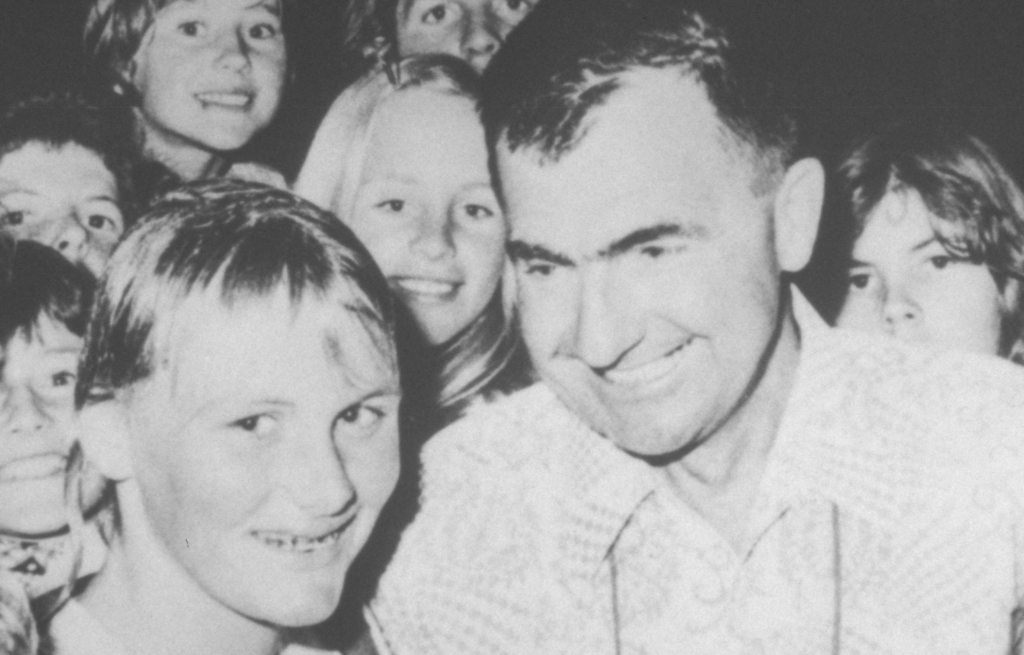 It was January 8, 1972, when Carlile Kid Shane Gould created a slice of history that will never be equalled.
The scene – Saturday night, Drummoyne pool, the NSW Swimming Championships. A 15-year-old schoolgirl is the overwhelming favourite for the Open 100 metres freestyle.
The gun goes, 58.5 seconds later Shane Gould touches the wall in a new 100 metres freestyle world record. A 15-year-old breaking a world record is story enough, but that swim made Shane the only person in the history of the sport to hold every freestyle world record from 100 to 1500 metres at the same time. Later she would add the 200IM World Record t her collection.
Shane had grown up swimming and climbing coconut palms in Fiji. When the family moved back to Sydney, Shane came to train with Forbes and Ursula Carlile. Almost immediately they realised this was a special talent.
"She has a lot of things, great physique,  good technique, great temperament," Forbes said at the time. Then when pressed about how good she may become he replied, "It's very hard to say, depends very much on her own drive, how much desire she's got."
Desire was on display that night at Drummoyne. Shane had previously equalled the 100m record, which had been held by Dawn Fraser for longer than the youngster had been alive.
Dawn first broke the record in 1956 at the Melbourne Olympics. Then, on her way to winning the event at three successive Games Dawn lowered the mark to 58.9secs. Shane equalled the record in October of 1971.
The night Shane broke through to hold the record on her own was stunning. Ahead of a crack field from the very start, she touched the wall almost two body lengths ahead, lowering the mark by .4 of a second.
The media storm around the Turramurra year 9 student was extraordinary. Rightly labelled the greatest swimmer in the world, a shy Shane blushed through her braces as she tried to humbly answer their questions.
Why are you the greatest swimmer in the world? With an embarrassed smile she replied
"dedication, my will to do well, all the people who help me, my parents and coaches."
 How does it feel to be the greatest swimmer in the world? "It hasn't sort of really clicked yet. Every now and then I think 'what am I?' it's a spectacular feeling but I've sort of tucked it into my pocket. I  just get on with normal everyday life," she said.
Life would not remain normal.
At the 1972 Munich Olympics Shane became the first man or woman ever to win medals in five individual events. Her end tally was three golds (all in world record time), a silver and a bronze.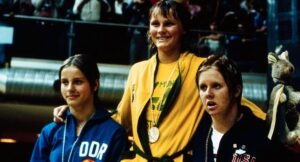 It was an incredible time for Turramurra high on Sydney's north shore. Another Carlile Swimmer, Gael Neall also took Olympic Gold and a world record in the 400 Individual Medley. Two of the sports houses at Turramurra high, are now known as Gould and Neall.
As for Shane, she would go on to be crowned Australian of the year and then retire from swimming at just 16.
"I swam because I loved it, when it became all about the results and the media and everything else, I just wanted to swim. So instead I took up surfing," Shane said years later.
Surfing and a desire to escape the spotlight would take Shane to Margaret River where she raised a family, off grid. Spending years on a farm with no electricity.
Shane, raised four children and was also prominent in a movement that campaigned to have the region declared Nuclear free. Thus stopping uranium being transported through Margaret River.
Apart from Surfing, Shane became a competitive horse rider, winning the West Australian Ploughing championship two years running in the 1990s.
Wind the clock forward 30 years from her Munich triumphs and Shane was back in the pool, back setting records. In 2003 she set a new World Masters Record in the 200m Individual Medley.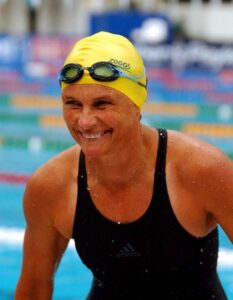 In 2018, Shane showed she had lost none of her competitive drive winning Australian Survivor and in doing so becoming the oldest winner of Survivor anywhere in the world.
Shane, a Doctor of Philosophy,  holds master's degrees, in Environmental Management and Contemporary Art and is an accomplished photographer with works on display with the Art of the Olympics.