Not every child will be the next Emma Mckeon, but if you are looking to fast track your child's progress, then swimming more often is the first step.
Since the time your child learnt to walk they've technically been training to be a runner!  This is because your body needs consistent training to be able to achieve a skill at the highest level. This is why children who have consistent lesson attendance, more than once a week, improve at a faster pace than their peers. 
But it's not just their swimming that improves!
Learning to swim takes time and practice. It is often a slow process which involves muscle memory, discipline, and dedication. All beneficial skills which are needed in life. 
Swimming builds life skills
Children who become competitive swimmers tend to learn great time management skills. Swimming teaches children not to approach things apprehensively, it encourages them to be confident in themselves and their skills. Benefits include:
Fast tracking their progress 

Developing increased muscle memory 

Engaging in more social behaviours 

Less screen time 

Improved skill retention 

Increased serotonin and dopamine levels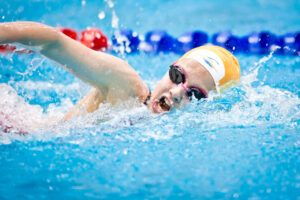 Back-to-back lessons are not the best
At a learn to swim level our teachers see the most progress when children come at two separate times per week. We strongly recommend not completing back to back lessons as your child will tire, may become distracted and struggle to benefit from the second lesson.
For our competitive pathway, the lessons per week do look slightly different, so we asked High-Performance Coach, Adam Mallett what it looks like! 
"If your child loves to be in the water, they're highly competitive and as a family you're ready for the adventure of a lifetime – the competitive pathway at Carlile may be for you!" he said.
"If the adventure of chasing the competitive dream excites your son or daughter, and you as family. the general rule of thumb we suggest is to swim the number of sessions per week equivalent to half your age!  So six year olds could be swimming three times a week."
"Only last year we created project 32, a pathway program to help children strive towards a home Olympics in Queensland in 2032.  Already the swimmers are asking mum and dad to do more than the 3 sessions per week we suggest!" 
As a swimmer moves through the competitive pathway the coaches may individualise this session count, but as the legendary quote from our founder Forbes Carlile said…
"Our aim is not to produce a champion, but to provide the environment where champions are inevitable.  However, swimming is a means to an end… to build self-confidence, self-discipline, integrity and courage for life."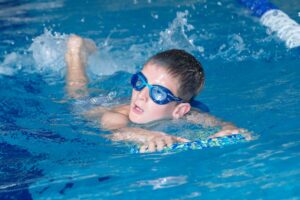 As Adam says "who wouldn't want to be subjected to that kind of environment everyday?"
Building the foundation for success
Think of your child's education. English and Maths are taught everyday as they set the foundations for a well rounded education. It's a similar story with swimming.
Swimming is a vital part of your child's education as it arms them with the skills and understanding of how to swim with good technique and save themselves. Swimming also teaches kids so much more than this! It teaches them: 
Discipline 

Refined motor skills 

Time management skills 

Builds confidence 

Improves social skills 
In our competitive program it is important that the children stay in touch with the water on a regular and consistent basis to increase and maintain their athletic performance. 
Our competitive program has 5 different levels based on performance:
Otters (6-9 years): 3-4 session per week

Rays (9-11): 5-6 per week 

Piranhas (11-14): 6-7 sessions per week

Crocs (14-18): 8-9 sessions per week 

Seniors (18+): 9+ sessions per week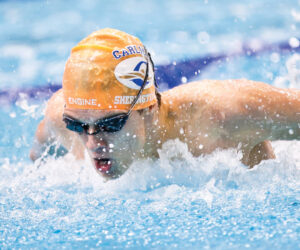 The pathway program has been established by Carlile's Olympic coach Chris Nesbit, who knows what it takes to create a champion having placed swimmers on Olympic teams 28 times. 
As mentioned above, It's all part of Project 32, where Carlile intends to place swimmers on the Olympic team for the home Games in Queensland. Nippers and surf life saving activities are also helpful in keeping our swimmers in touch with the water! This can also count as an in water session. 
If your child dreams of the Olympics, or would just like to be a better swimmer, you can ask to add another lesson here.