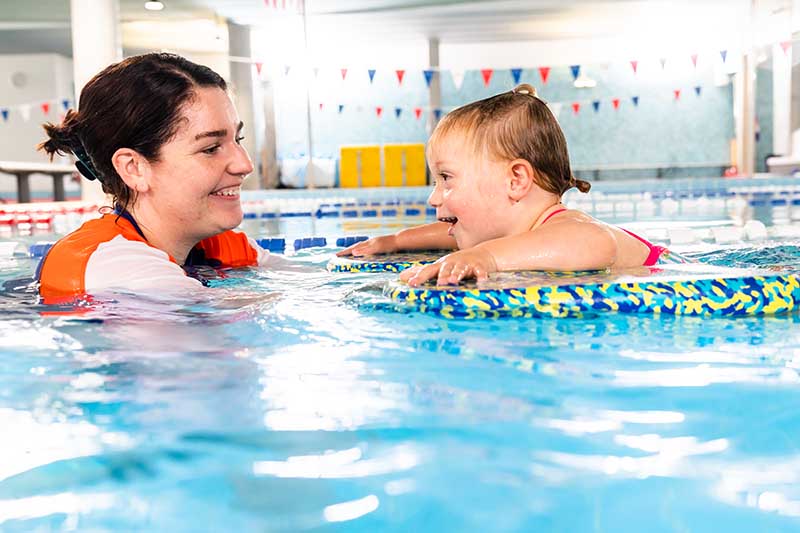 When choosing a learn to swim school you need an expert with a nurturing approach, that emphasises safety and develops great technique.
Carlile Swimming pioneered teaching babies in Australia, opened Sydney's first indoor learn to swim centre and has long been regarded as one of the world's leading swim schools.
These are Carlile's top five questions to ask when you're looking for a swim school.
Are your teachers well trained and accredited? Your teacher should be accredited by a nationally recognised organisation. Not all swimming teachers carry a national qualification, and not all swim schools have developed their own internal training.
What is your child protection code of conduct?

Your swim school should be able to provide you with their child protection policy and ensure the right practices are always followed.

Do you use flotation aids, such as bubbles and floaties?

Most drownings amongst children aged 0-4 are caused by falling into water. If your child falls into water, the chances are they will not be wearing a flotation aid. It's easy to develop a false sense of security when using flotation aids, because it appears the child's skills are more advanced than they really are.

How many students are in a class?

The numbers should vary. Learning to swim requires more individual attention than stroke correction. A teacher's ability to keep children engaged is just as important as the teacher to child ratio.

How warm and how deep is the water?

Children learn best in heated pools, where they have the security of being able to stand when needed. Being able to stand comfortably on the bottom or on a ledge helps them build confidence.
If you get the right answers to the questions above, then you may have found a quality swim school! Go and watch, check to see how the teachers interact with the children. Are the children engaged and having fun?

If you think you have found the right centre, then here are five more questions to ask when choosing a swim school:
Why is good technique important?

Swimming with an efficient technique means a child can swim longer without tiring. Good technique can save a life. Further, being able to swim well opens the door to a world of opportunities, from competitive swimming, to surfing, water polo, lifesaving, skiing, sailing and many more.

Do you have Supervisors who watch lessons to ensure quality?

Carlile introduced Supervisors, who are experienced teachers. They not only provide feedback to teachers on lesson quality, but also assess children's progress.

When is the best time to start?

As soon as possible! Babies can start as young as three months. These classes are done with a parent in the water. They are tremendous fun, a great bonding experience and help develop important safety skills. If your child is older, it's never too late to learn the life-saving skill of swimming and enjoy the considerable developmental benefits.

Will my child be at a level for a set period of time?

Children should always be promoted as soon as they are ready to confidently move up.

How far will my child swim?

Further is NOT necessarily better. If a child with poor technique is swimming too far, they are building muscle memory with that poor technique. Shorter distances, with more opportunities for stroke correction and less chance to lose concentration or tire, develops better swimmers.
Finally, many parents wonder when their child will have learnt to swim. Hopefully swimming will be a journey your child loves, not an event. If your child can comfortably swim 400 metres of freestyle with good, efficient technique and a balance of other strokes, then they can swim well. That opens the door to a lifetime of possibilities in and around the water.