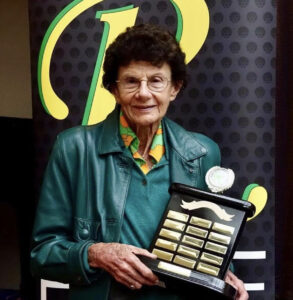 Ursula Carlile, the first woman to coach the Australian Olympic team, has been inducted into the International Swimming Hall of Fame, over the weekend in Fort Lauderdale.
"It makes me extremely proud, because along with Forbes we have been in swimming all our lives and swimming is not just one country and I feel very honoured to be selected as one of the hall of fame inductees," Ursula said.
Ursula's induction had been delayed due to Covid and the honour comes almost 50 years after husband Forbes was inducted.
Ursula was inducted with a group that included Olympic Gold Medallists Jon Sieben, Michael Klim, Matthew Mitchum, Craig Beardlsey Mirko Vicevic.  The award was accepted on Ursula's behalf by Carlile Swimming Director Tim Ford.
The overdue award means that Ursula and Forbes, are the only husband and wife coaching team to be in the Hall of Fame. While Ursula was unable to attend you can watch her acceptance speech here
"It's exciting, it's the first-time its happened and I feel really honoured and I know Forbes would to, if he was here. Between us we did have something special going on."
The two turned Carlile into a dominate force in the world and the most successful club team in Australian swimming history. They also built a business which today provides more than a million lessons a year. The zenith for Ursula was the 1972 Munich Olympics when Shane Gould won five individual Olympic medals, three of them gold in world record time. Shane's Carlile team-mate Gael Neall also grabbed gold and a world record in the 400IM.
You can read more about Forbes and Ursula's  remarkable careers here
The awards night was the first held since 2019 due to COVID-19 lockdowns and bought together some of the all time greats of world swimming. This included butterfly royalty Craig Beardlsey, Jon Sieben and Mary T Meagher. The three world former record holders are seen here catching up after the awards.