"Mum, Dad I'm starving" how often have you heard that before or after swimming?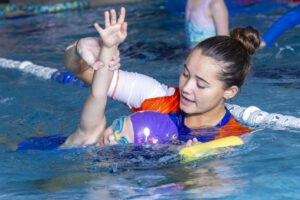 Their bodies are like car engines, no fuel and they won't keep going. But it's 
not just about having something in the tank, it's about having the right type of fuel! 
Without consuming food they won't be able to concentrate or put in the energy required to get through the lesson. So here are some tips for before their lesson. 
Piece of fruit (e.g apple, strawberries, banana, pineapple, pear)

Yogurt

Cereal 

Toast 

Nuts 

Biscuits 

Muesli bar 
These types of light foods will fill your child up without making them feel ill when swimming. 
So now your child has made it through their swimming lesson. They're hungry yet again and are ready to eat as soon as they step out of the pool. Here are some snacks they can eat in the car after a big swimming lesson.
Muesli bar 

Nuts 

Sandwich 

Banana 

Biscuits 
What about lunch or dinner when they get home?
Spaghetti and meatballs 

Rice and chicken or fish 

Homemade burgers

Peanut butter rice cakes 

Pasta 

Sweet potato 

Sandwich
Did your mum ever tell you not to eat for an hour before swimming because you would get a cramp? It's an urban myth. Our Olympians all consume food before they swim.  It is important that swimmers feel light and not weighted down before lessons but eating a snack within an hour is a great idea. Feeding them longer than an hour before could see them already hungry by the time lessons start. Hydration is also highly important!! So make sure your child has some water alongside their pre lesson snack.  
Although your child may not be training like an Olympian, they still need to be fueled just the same so they can swim to their full potential during lessons. So next time you're heading to one of our pools grab your child's goggles, towel and a smart snack to help them get the most out of their lesson!!