When should my child start swimming lessons? When should my child stop swimming lessons?These are two questions most Australian parents ask. Searching Google for advice will lead you to more tips than a tin of asparagus but as the organisation that has been doing it longer than anyone else, here is what Carlile Swimming believes.
The first thing we know for sure, is too many Australian children stop swimming before they have obtained the skills necessary to make them safer in and around water.
Drowning statistics in recent years have been a national tragedy. More than eight million lessons have been lost during COVID and some children may never learn to be competent swimmers.
There is no doubt this puts lives at risk but so does stopping swimming early.
Recent research reveals almost 50% of Australian children graduating from primary school can't swim 50 metres or keep themselves afloat for two minutes.
These are the most basic of benchmarks. Swimming saves lives and being able to swim 50 metres in a controlled environment at the school swimming carnival is nowhere near enough.
Forbes Carlile coined the phrase "to swim well is an asset for life" and in Carlile's view that means being able to swim 400 metres freestyle with good technique, along with having good technique in each form stroke.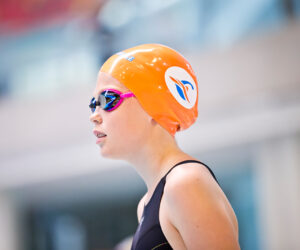 This doesn't mean your child will go on to be the next Emma McKeon but they will have the skills to enjoy swimming as a healthy pastime for the rest of their lives. Swimming is also a gateway to so many other activities – water polo, surf lifesaving, surfing, sailing the list goes on.
As for the first question, when should my child start swimming? The answer is the earlier the better.
Forbes and Ursula Carlile pioneered baby teaching in Australia, opening Sydney's first indoor learn to swim centre. Carlile, run water confidence classes from three months of age.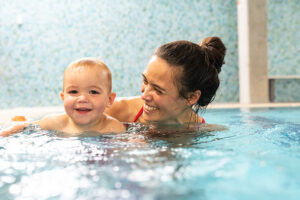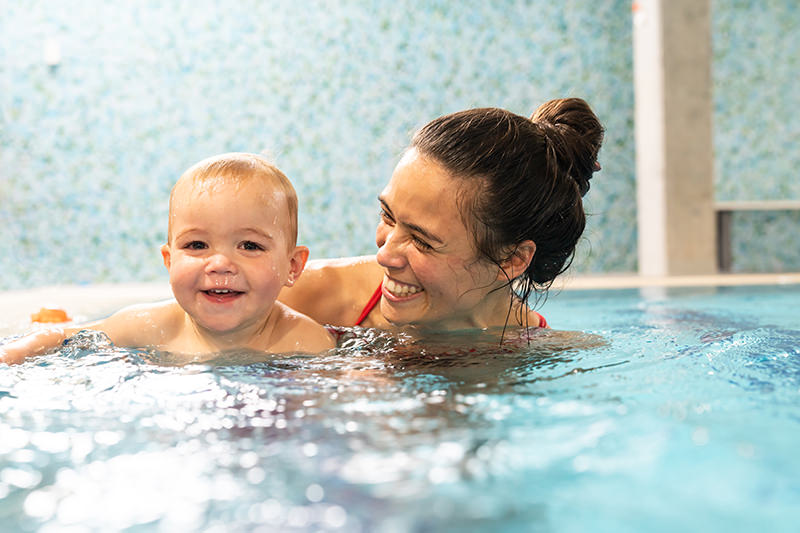 "By that stage their immune systems are developing, they are bonded with you and they love the buoyancy of the water," said Carlile director and former Australian champion Richard Cahalan.
"It's a perfect time for parents to help them explore and have fun, but beyond that, babies and young children learn important water safety skills. Everyone should learn to swim well and there is no doubt that starting young is ideal," Cahalan added.
Being in water is also a familiar and comforting memory for babies, having spent nine months in the womb surrounded and supported by amniotic fluid. This could be one reason why so many babies love swimming with mum or dad. Getting them started early when they have been used to water around their ears and eyes is often more pleasant than waiting until they are toddlers and those memories have faded, indeed some toddlers can develop fear of the water.
It is important that babies are never pushed into situations before they are ready but allowed to explore the water in a safe environment allowing them to build confidence.
Waterbabies classes are conducted with a parent in the water with the child. Its tremendous bonding and parents often have as much fun as the children.
However, not everyone starts their children as waterbabies. From two and a half children are in the pool with a teacher and begin to learn skills which will see them move independently through the water.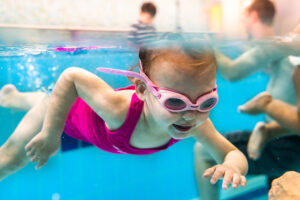 Mr Cahalan, stresses that finding the right pool and teaching program is a must.  "The pool itself has to be warm, both in and out of the water.  You also want a facility with quality filtration and water treatment, that ensures the highest level of hygiene," he says.
Recent research at the Imperial College London found that properly treated water can inactivate COVID in 30 seconds, find out more here
As for the program, look for a supportive fun environment where children are gently encouraged. There should also be a clear pathway of progression, where children learn the right skills at one level to confidently progress to the next.
You can find out more about Carlile's program here