Carlile Swimming is set to launch a new learn to swim centre in the Sutherland Shire at Caringbah. Swimming lessons are expected to begin in August, bringing the world renowned Carlile Learn to Swim System to the Shire.
The program of learn to swim lessons at the new Carlile pool will be managed by long time local Melissa Plakidis, a desperate Sharks supporter who was most recently in charge of her own swim school – Little Sharks!
Melissa, born a water baby, has spent most of her life in swimming and the surf.  Indeed, her first foray into teaching was conducting Surf Awareness Clinics as a 15-year-old.
"Being part of the local community is the highlight, making connections with families that continue for years after the children's lessons," Melissa says.
"Seeing a child go from an unsure beginner to standing on the blocks at their first school carnival is irreplaceable."
The new Carlile pool draws on more than 75 years experience in teaching learn to swim lessons. Featuring world's leading filtration systems, warm air and water with an air conditioned parents viewing room. It is simply ideal for swimming lessons. 
Carlile Swimmings unmatched heritage
Carlile, renowned for producing swimmers with great technique, will conduct swimming lessons for baby's to Olympians.  For young children starting out there are custom depths and ledges to ensure they can safely and confidently learn to swim. For others perfecting their technique there is stroke correction followed by squads.
"Our founder Forbes Carlile started way back in 1946 at the Palm Beach rock pool, where he produced his first Olympic Gold medallist, John Davies," said Carlile Swimming CEO Jon Harker.
"Carlile pools have come a long way since then. Caringbah is a state of the art facility purpose built to help children learn to swim well."
Forbes Carlile said "to swim well is an asset for life' and it's a necessity for children growing up in the Shire.
"It could be competitive swimming, surf lifesaving, playing water polo for the Sharks, surfing, swimming or sailing. Being in or on the water in the Shire is a way of life," Mr Harker said.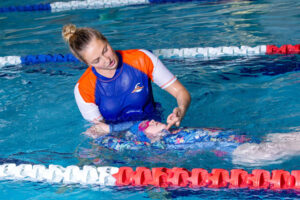 Carlile Swimming is the oldest swim school in the country,  founders Forbes and Ursula Carlile are the only husband and wife coaching team to be in the international swimming hall of fame. Forbes invented the pace clock, pioneered circle swimming, lane ropes, goggles and much more.
Forbes and Ursula built Sydney's first indoor teaching pool where they pioneered baby swimming and went on to develop a program of learn to swim lessons considered one of the world's best.
The best swimming lessons in Sydney
So if it's time to get your child swimming or to find a better teacher, then look no further than Carlile Swimming.  You will find a fun, safe, caring environment where your child will learn to swim well and love the water.
 Your child will thrive in small classes, with individual attention from expert teachers trained well beyond the industry standard. Carlile is also an approved First Lap and Active Kids provider. 
 At the cutting edge of world swimming, Carlile promises: 
A personalised approach to delivering high-standard lessons consistently.

To constantly monitor and address your child's progress. 

To provide regular feedback on your child's progress. 

A purpose-built pool, with warm water and the world's best practice technology to maintain hygiene. 

Three 25 meres lanes for squad swimming and specialised areas for baby's and learn to swim.

Friendly staff who are always ready to help.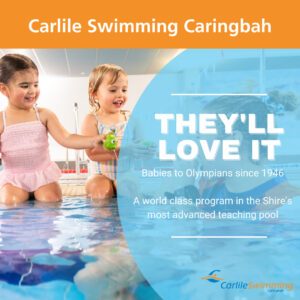 So if you want to help your child to be safer in and around the water and develop a lifelong love of swimming, join Carlile's. Book now or check out the Carlile approach below: 
Book the Carlile Swimming class that suits you
For babies and toddlers aged 3 months to 2.5 years, this class is great fun when you are in the water with your child. There are games, songs and routines to help children feel safer and more confident in the water. Your child will learn to be comfortable submerging and floating on their back. 
Your child will enjoy lots of personal attention as classes have a maximum of four swimmers allowing the teacher to build confidence and skills in each swimmer. 
Classes of no more than five, with an expert teacher tailoring their approach to your child's level. If your child is less confident in the water, Carlile has classes specifically designed to help before introducing more difficult skills. 
Swimming well is an asset for life. Carlile's approach is built around that belief and the goal of helping your child to enjoy learning to swim with good technique. Your child will refine freestyle and backstroke before moving on to all four strokes. 
Squads place an emphasis on endurance and perfecting technique. There are also opportunities for swimmers to progress to advanced competitive squads led by Olympic Coach Chris Nesbit. Coach Nesbit has placed swimmers on Olympic teams 28 times, including at the last games in Tokyo. 
Carlile Swimming Coaches have produced more than 50 Australian representatives, 8 world record holders and won more than 250 Australian Open Swimming championship Gold Medals. Carlile Swimming Caringbah is also looking for teachers.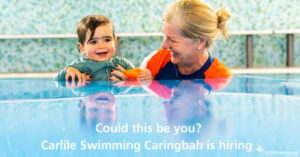 So if you want to work with a fun, supportive team and help save lives, then come join Carlile Swimming Caringbah!
Swimming teachers measure their day in smiles, it's one of the most rewarding roles. You don't have to be a former swimmer, or even a current teacher. Just bring your enthusiasm and we can teach you the rest. Carlile Swimming is regarded as one of the world's leading swim schools and at our new Caringbah facility you will enjoy:
Flexible hours
Weekend bonuses
A fun social team
All training is provided
Carlile's in house training will see you obtain an accreditation that you can use all over Australia and in many parts of the world. It's a role for anyone from 16 years to retirees. Find out more here