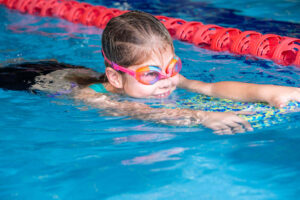 Why Swim through Winter? Ask yourself this question: If you have a choice, would you choose to interrupt your child's progress? Of course you wouldn't. But sadly that is exactly what lots of parents do by taking a break from swimming lessons in Winter.
Learning to swim is not a seasonal sport, it's a vital survival skill. The good news is  Carlile's purpose-built pools with warm air and even warmer water are perfect for swimming no matter the weather. 
Here are our top five reasons not to take a break this winter: 
Swimming saves lives
Accidents can happen at any time of year in the water, so it's important that children understand how to handle emergencies and stay confident in the water. Maintaining swimming lessons throughout winter helps to reinforce their swimming so they are prepared if something goes wrong. The thing to remember is staggering your child's swimming progress can see them go backwards and struggle when they return. They may forget many things they had practiced, meaning you'll need even more summers of lessons before you're comfortable just watching them from the side.
Get ready for a great summer 
Swimming lessons burn off excess energy and get the children ready for summer months activities with school, family and friends. 
Swimming through winter sets your child up with good foundations for the upcoming Summer season which includes swimming at friends pools, going to the beach and school swimming carnivals. As a parent our number one priority is that our children are safe and ensuring they retain the knowledge and practice of swimming  throughout winter so they are safe for summer. 
Swimming through winter improves children's immune systems
Many parents believe pulling their kids out of lessons during winter is to reduce their risk of getting sick, when in actual fact it is more beneficial for them to continue lessons. "People may be surprised to know that swimming through winter can improve a child's immune system by keeping them fit and healthy, reducing their risk of catching a cold. So it's time to stop fearing wet hair," added Dr Sam Hay.  Just make sure they dry off and rug up before leaving the pool.
Get them out of the house
Winter brings with it cold, rainy days that more often than not force kids indoors to their screens with little to no socialisation. Swimming lessons are a great way to reduce your child's screen time and help them develop their social skills, and what's better than a nice warm pool on a cold Winters day? 
Swimming makes kids smarter
Memory function, thinking skills and your mood is improved by exercise and swimming is an exercise for life. No impact makes it a pastime that doesn't stress your joints, plus it burns more calories than jogging and the truth is, swimming is fun. If you don't believe it makes children smarter check out the research from Griffith University. A long term study found children who attended regular swimming lessons improved physical, emotional, social and cognitive skills. Compared to the non-swimming population, the 3 to 5 years old's in the study were:
11 months ahead in verbal skills

6 months ahead in math skills

2 months ahead in literacy skills

17 months ahead in story recall

20 months ahead in understanding directions