It's a common question from many parents who are first keen to see their children capable of saving themselves should they fall into water and then become better, stronger swimmers.
However, being SAFER around water is not just about learning to swim, but it is clearly the key ingredient. We say SAFER because no child can ever be completely safe around water. SAFER stands for
Swimming Skills
Adult supervision
Fences and gates
Emergency plan
Reduce the Risk
Find out more here. As for how far your child should swim, that changes as they progress but the first thing to understand about swimming well is that further is NOT necessarily better.
If a child with poor technique is swimming too far, they are building muscle memory with that poor technique. Some big and strong children may even swim quite quickly despite their mistakes. In the end they will tire, and their poor stroke will become a bigger problem.
The child with great technique who may not yet be a as physically developed will eventually be a faster, stronger swimmer. That is why shorter distances, with regular rest and more opportunities for stroke correction and less chance to lose concentration or tire, develops better swimmers.
The last thing you want is a child churning up and down a pool with poor technique, building endurance while also repeating the same mistakes with every stroke until correcting it becomes almost impossible.
Young children also learn by observing their peers, so the breaks they have while learning are very beneficial.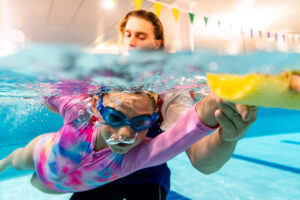 Carlile Swimming has been coaching and teaching children to swim well for 75 years and has long been regarded as one of the world's leading swim schools. Their approach centres around developing swimmers with great technique.
"The first thing we are trying to do is make children safer around water. After that we hope they go on to swim well and love the water," Said Carlile Swimming Director and former Australian champion Richard Cahalan.
The Carlile program is skill based and designed to help children learn specific techniques  that will help them confidently move to the next level. Each level then builds from the foundations of the one before until your child can swim well.
What does "swimming well" actually mean? " Hopefully swimming will be a journey your child loves, not an event. We believe swimming well is when your child can comfortably swim 400 metres of freestyle with good, efficient technique and a balance of other strokes. That opens the door to a lifetime of possibilities in and around the water."